The Kris Jay Trio was formed by Kris Jay Bowerman in 2014 to serve the Greater Vancouver Area with quality jazz performances for various events needing background music — receptions, cocktail parties, corporate and civic events, weddings, birthday parties, anniversaries, and any kind of celebration. In 2018 the band expanded into performing at house concerts. The instrumentation of the trio consists of trombone, piano/keyboard, and acoustic bass.
In 2019 a drummer was added for when the group performs on stage with a listening audience, such as concerts and festivals. In this format the band is called the Kris Jay Trio + 1. In 2020 the Kris Jay Duo was born, with Kris and pianist Stephen Robb recording a special pre-taped concert of a mix of original and standard jazz tunes. In the spring of 2021 they recorded a virtual concert for Knox Instrumental Measures Series of all original music written by the performers. Just weeks after the duo concert, the trio recorded the same original tunes for another virtual concert.
Kris employs local professional level musicians who have years of experience to deliver a high quality musical experience for all occasions. The basic line-up is Kris Jay Bowerman, trombone; Stephen Robb, piano/keyboard; Brent Gubbels, bass; Elliot Polsky, drums.
 
Quality music for a successful event!
Greater Vancouver Area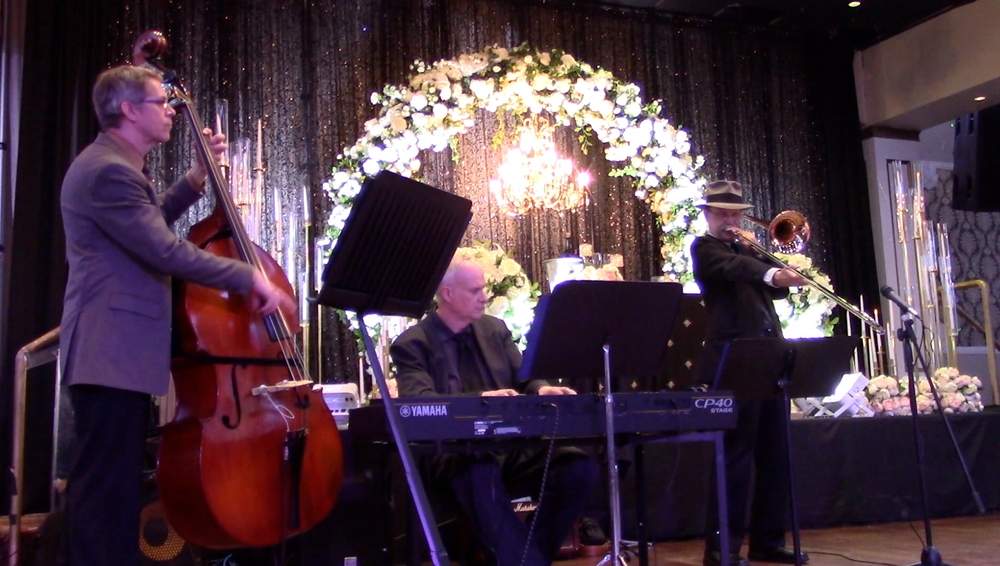 Performances (short list)
Birthday Party (virtual concert) — Tsawwassen
Knox Instrumental Measures (virtual concert) — Vancouver
US Consulate General (party) — Vancouver 
Taiwanese Canadian Cultural Festival, Richmond  
CB2 Store Event, Vancouver  
Wedding Dinner Hour, Brock House Restaurant, Vancouver  
Long, Long Table, Surrey Civic Plaza, Surrey  
Wedding Cocktail Hour, The Beach House, West Vancouver  
House Concert, Tsawwassen, BC  
Assante Wealth Mgmt, Client Appreciation, Van. Art Gallery  
Birthday Party, Vancouver Rowing Club  
Interurban Tram, Richmond  
Wedding Reception, Fraserview Banquet Hall, Vancouver  
Department of Civil Engineering, Symposium Banquet, UBC  
Tri-City Paint & Design, 25th Anniversary, Port Coquitlam  
Easter Seals Regatta, Royal Vancouver Yacht Club  
Wedding Reception, Teahouse, Stanley Park  
Birthday Party, Kerrisdale Community Centre  
Perkins & Will, Corporate Reception, Marine Gateway  
Birthday/Retirement Party, Crescent Beach  
Auto West Group, Christmas Parties:  
    Vancouver Aquarium 
    River Rock Casino Theatre 
    Pacific Gateway Hotel  
Wolf & Hound Restaurant, Kitsilano, Vancouver